Wage inequality: 2022 results
Achieving gender equality is considered one of the main factors of sustainable human development. And we decided to look what is the difference in wages between men and women in Kazakhstan.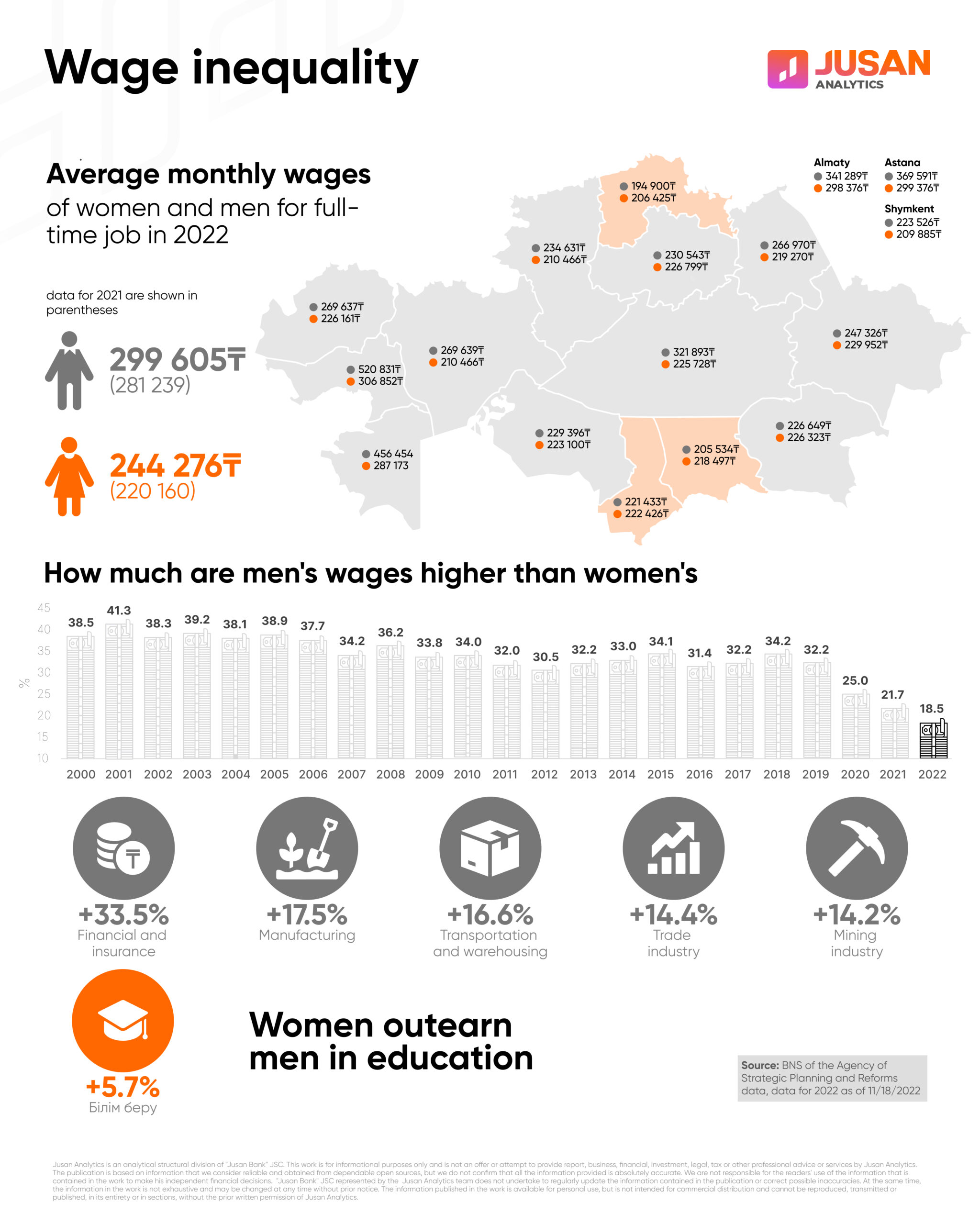 The wage gap decreased and amounted to 18.5% in 2022 according to official statistics (21.7% a year earlier). The average monthly salary for men with full employment is 299,605 tenge (+6.5% compared to last year), and for women – 244,276 tenge (+11.0%).
We can see on the infographic that only in 3 regions of Kazakhstan women's wages are higher than men's: in Zhambyl (by 6.31%), North Kazakhstan (by 5.91%) and Turkestan (by 0.45%) regions. At the same time, the most difference in wages in favour of men is observed in Atyrau (by 41.08%), Mangystau (by 37.07%) and Karaganda (by 29.9%) regions.
If we consider the difference in wages of men and women by economic activity, then the greatest difference is observed in financial and insurance activities, where men earn 33.46% more. Then comes the manufacturing industry (by 17.51%) and the transportation and warehousing sector (by 16.59%).
The only sector of the economy where women's wages are higher than men's is education – women's wages are 5.68% higher.
| | | | |
| --- | --- | --- | --- |
| Economic sectors | Women | Men | Wage gap, % |
| Financial and insurance activities | 388 891 | 584 435 | 33.46% |
| Manufacturing industry | 277 088 | 335 923 | 17.51% |
| Transportation and warehousing | 264 274 | 316 832 | 16.59% |
| Wholesale and retail trade | 222 011 | 259 253 | 14.37% |
| Mining and quarrying | 452 208 | 527 083 | 14.21% |
| Information and communication | 331 367 | 381 371 | 13.11% |
| Provision of other types of services | 370 849 | 417 988 | 11.28% |
| Public administration and defense; compulsory social security | 191 716 | 213 492 | 10.20% |
| Public health and service | 226 585 | 251 184 | 9.79% |
| Administrative and support services activities | 249 281 | 272 821 | 8.63% |
| Real estate transactions | 225 083 | 243 366 | 7.51% |
| Professional, scientific and technical activities | 378 274 | 407 739 | 7.23% |
| Art, amusement and recreation | 151 725 | 162 964 | 6.90% |
| Agriculture, forestry and fisheries | 159 748 | 169 564 | 5.79% |
| Construction | 366 699 | 370 229 | 0.95% |
| Education | 234 506 | 221 898 | -5.68% |
Klara Seidakhmetova
Senior Analyst
Sign Up for the Most Helpful Mailing List